Guy is an ex-navy who started a local company who organizes private boat tours in Amsterdam for companies. They do these boat tours along the beautiful canals on fully electric boats.
During his time in the navy he noticed the way the navy and other big organizations handled the environment in an unsustainable manner. Like circumstances where the sea got polluted. When he left the navy, he wanted to make a positive impact. He started his business. While still wanting to be a profitable business, he also considers the responsibility we have for the climate and environment.
While witnessing the problem with his own eyes, he decided to take responsibility with his business. 'Amsterdam itself doesn't really have a problem when it comes to plastic pollution in the canals, they frequently get cleaned by the municipality'. However, you can still raise awareness. Creating impact here, in Amsterdam, by changing people's behavior towards pollution.
Fun fact: One of their prettiest boats is called the Willem de Zwijger boat!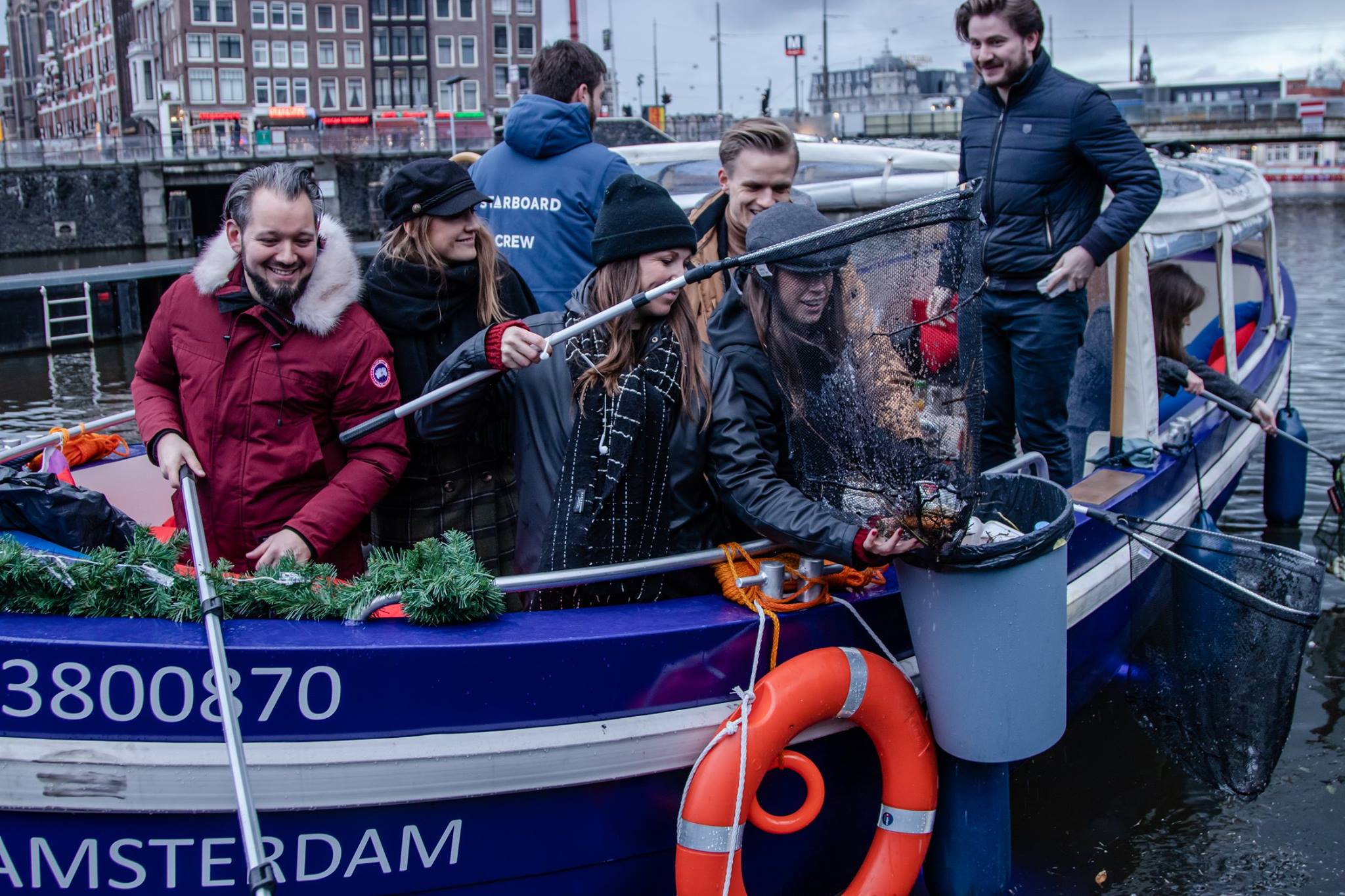 Cleaning the Amsterdam canals! ©Starboardboats
Starboardboats is a part of a bigger company called Weareamsterdam which facilitates several different activities like the boat cruises with fully electric boats. Guy hopes to facilitate these activities with warmth, host the customers as if they were your best friends. He focusses on bringing hospitality to the next level as he tries to make his activities the most memorable of anyone's business trip or vacation. As he said, in this case especially about Starboardboats: 'It's more than just a boat cruise company'. He does, for example, music productions on the boat for upcoming artists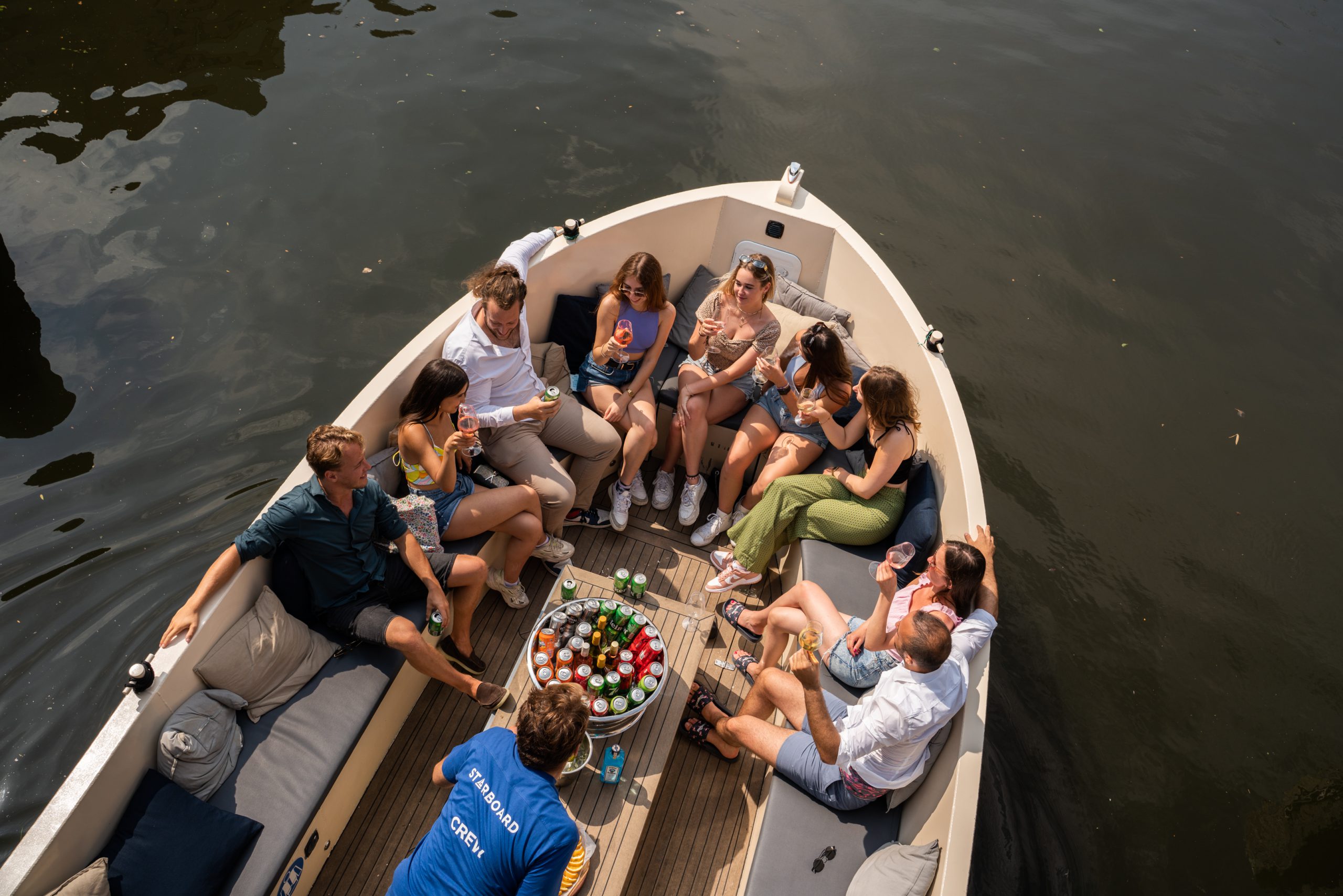 Enjoying a drink on a fully electric boat ©Starboardboats
There are a lot of boat companies navigating along the Amsterdam canals. Guy thinks it's important to keep thinking about the way you run your business. It is necessary to take responsibility. 'They should try to minimize their footprints'.
Sustainability is overlapping in life. It plays a role while doing business but as Guy said: 'it starts at home'. The reduction of your own footprint can already start in the supermarket, thinking about what you're buying when it comes to packaging and buying more sustainable products. Guy really likes to surf as well. While surfing he tries to pick up plastic whenever he sees it floating in the sea or laying on the beach. Furthermore, he tries to donate money to charity concerning the pollution of the ocean.
He wants to continue to grow here but also spread his business around the world. Spreading the awareness around the globe, for example in London. The power of Starboardboats is its outside of the box thinking. Guy wants to use this trait during its company events to promote sustainability.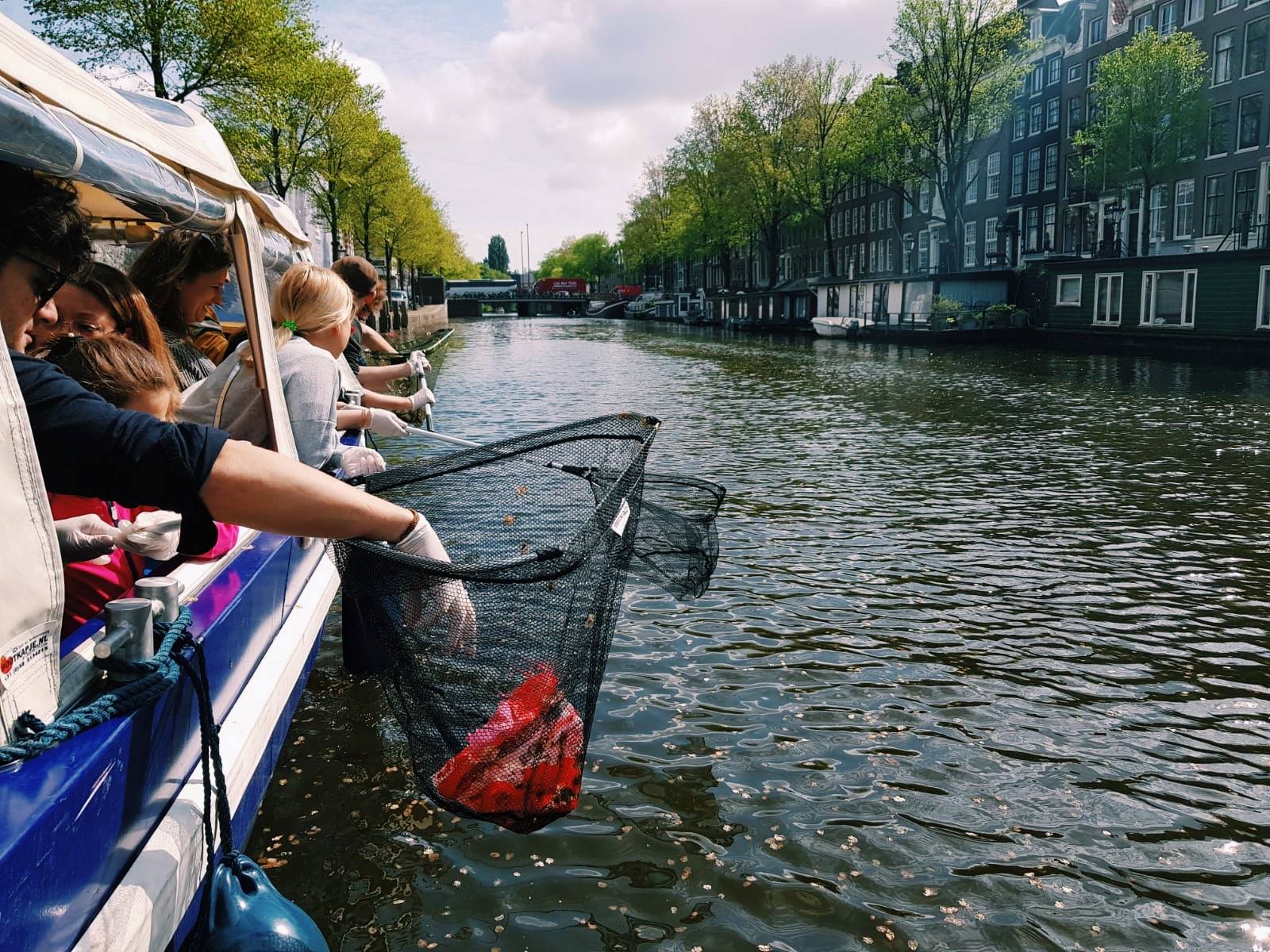 Picking up more trash out of the canals ©Starboardboats
Would you like to participate and help cleaning the canals? At the moment it is solely a private tour which you can book as a business trip. Furthermore, Starboard Boats will be starting one of their main operations in the coming winter months – for Amsterdam light festival. Want to know more about what Starboardboats has to offer or make an impact as part of a business trip? Click here!