Between April – September 2021 the project "Climate Citizens' Assemblies: learning with, from and for Europe" has brought citizens, politicians, policy makers, activists and academics from all over Europe together to exchange their insights, experiences and practices of Climate Citizens' Assemblies. In this final session, we will share the most important lessons of this exploration, to further unlock the potential of Climate Citizens' Assemblies to develop adequate climate policy and strengthen democracy. Which new insights have the experiences of the last years given us? Why do we believe it is crucial to add grassroots perspectives to this conversation? And what are the next steps to pave the way for impactful and sustainable climate democracy in Europe?
You can attend this event physically or online. When making your reservation, choose between a physical spot or an online reservation.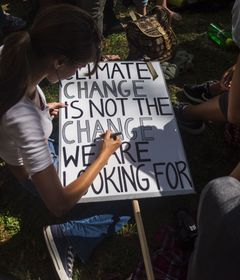 Dossier
Climate Citizens' Assemblies
A European exploration on how citizens can help us strengthen democracy and fight climate change
About the program
We open the session with Eva Rovers (co-founder of Bureau Burgerberaad), the co-initator of the project on Climate Citizens' Assemblies in Europe. During this final session, she will present the outcomes of this project, which explores the ways for designing just, sustainable and impactful Climate Citizens' Assemblies.
The following speakers will then react upon the presented outcomes:
Graham Smith is Professor of Politics and Director of the Centre for the Study of Democracy (CSD) at the University of Westminister. His work focuses on democratic theory and practice (particularly participatory democratic institutions), climate and environmental politics and the third sector/social economy. Since recently, he is the Chair of the Knowledge Network on Climate Assemblies (KNOCA): an initiative of the European Climate Foundation, and a 'go to' place for those seeking considered, rigorous and widely-sourced input on the design and implementation of Climate Assemblies.
Claudia Chwalisz leads the OECD's work on innovative citizen participation, which explores how to bring public judgement to democracy to improve public decision making, and how to strengthen society's democratic fitness. She is the lead author of the first OECD report on deliberative democracy, Catching the Deliberative Wave , and led the development of the OECD Good Practice Principles for Deliberative Processes.
Bernd Vetterick is an member of the Citizens' Assembly working group of Extinction Rebellion Germany. The movements' Third Demand (besides: Tell the truth, and Act now) is a government commissioned, independently run Citizens' Assembly on Climate and Ecological Justice, in order to empower citizens to take the lead in dealing with the climate and ecological emergency. Germany just finished its third Citizens' Assembly this June, which dealt with the question: "How can Germany achieve the goals of the Paris Climate Agreement – considering social, economic and ecological perspectives?"
About the project
This is the fifth and final LIVECAST of a series connected to the international project "Climate Citizens' Assemblies: learning with, from and for Europe". From April – September 2021, Pakhuis de Zwijger and Bureau Burgerberaad join forces to investigate how Citizens' Assemblies in Europe can help us strengthen democracy and fight climate change.
Through the development of an online knowledge platform, and by bringing different keyplayers from Europe together in LIVECAST sessions, the project aims to exchange knowledge and best practices, enhance collective learning and develop guidelines for impactful and just implementation of Climate Citizens' Assemblies in Europe. With as overall goal: to contribute to effective, sustainable and just climate policies and a 21st century proof democracy in Europe.